SlideShare is one of the popular web services where user view, upload, and share their content. It support multiple formats e.g. ppt,pdf,doc,etc.
You can find content on a wide range of topics.
Member chooses its upload content is available publicly or privately. After uploading, it is available for the community, where member interacts with it by like, share on various social media, comment on it, embed your content and even they download it.
To embed SlideShare Presentation to the website or personal blog there are two ways –
Without Plugin
With Plugin
In this tutorial, we check out both of these ways of embedding.
Within this tutorial, I am assuming you have a SlideShare account, if not you can signup for it.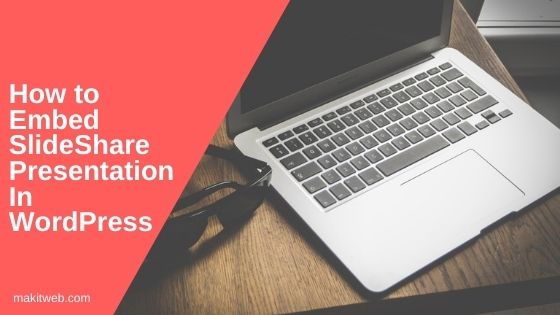 ---
Contents
---
1.

Get Started

SlideShare allows users to embed either their Presentation or someone else.

For embedding your own created Presentation, you first need to Login in to your SlideShare account and navigate to My Uploads. 

Here, you see all your uploaded Presentations, Select one of the Presentation from there and you will be taken to the Presentation viewing screen. The same screen is seen by other readers which are viewing your presentation.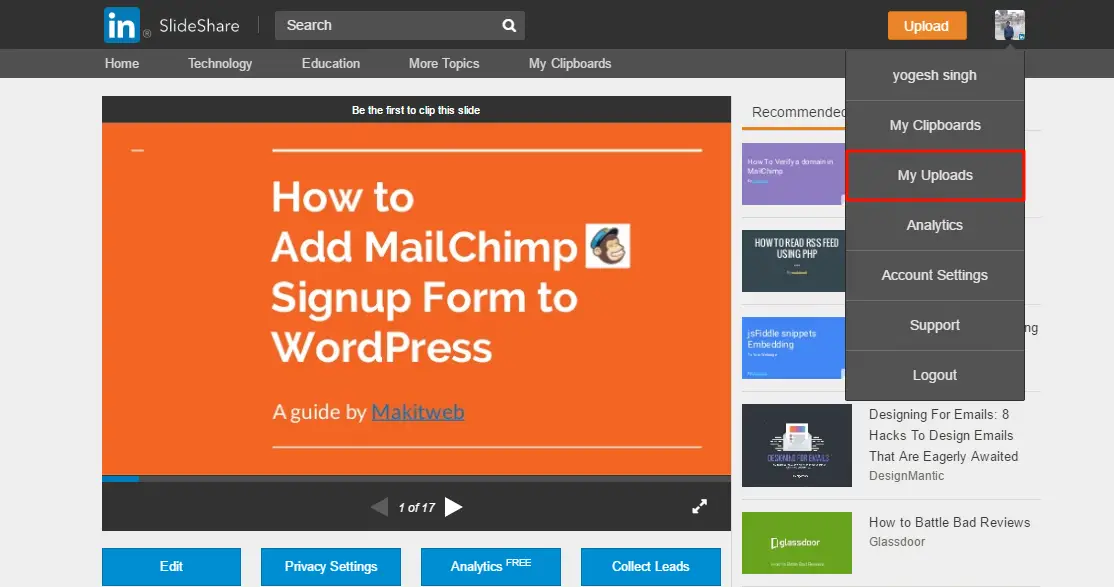 Within the Presentation view page clicks on the Share button. Now, you see multiple ways of sharing it. From here you can share it on social media, email someone, embed it to the website, and also have WordPress Shortcode and Link which you can use when you are using the plugin for the embed.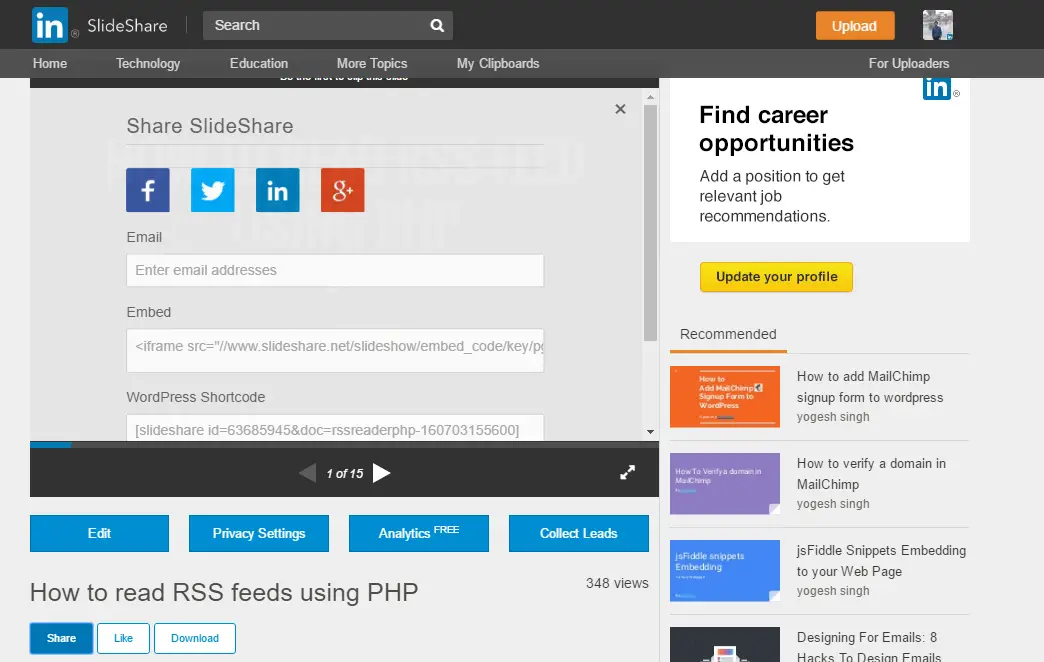 ---
2.

Without Plugin

For displaying Slideshare presentation without any plugin, you can use the Embed code.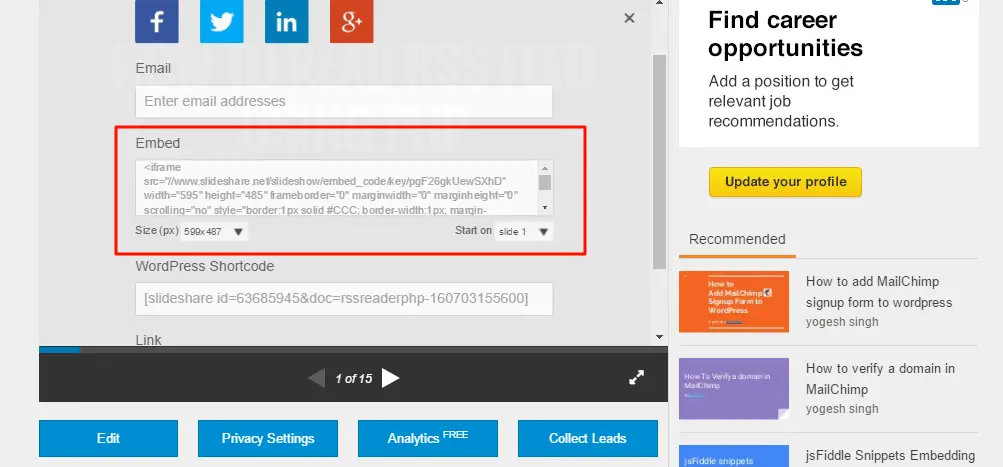 After clicking on Embed content you see two more options Size and Start on. Using size you can change the default set size of the presentation and you can change which slide display first using Start on.
Copy Embed code and paste it in your website or blog.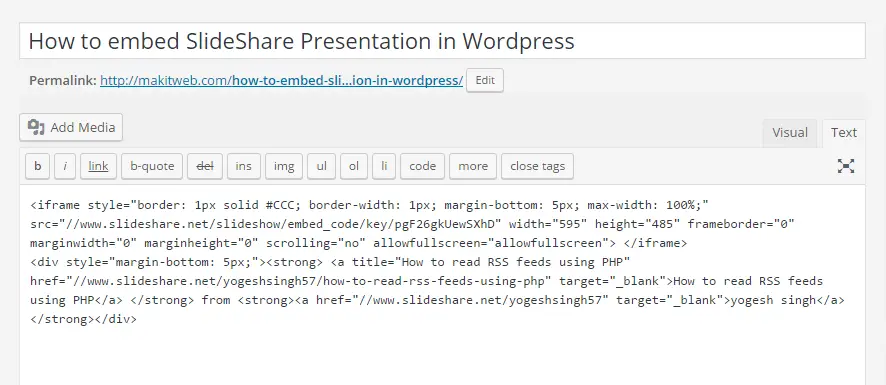 ---
3.

With Plugin

For embedding with the plugin, we are using SlideShare for WordPress by Yoast Plugin, this makes embedding much simpler.

After installing and activating, you will find it under Settings. 

It contains only one option which allows us to set the only width of the Presentation.

It uses either Shortcode or link for embed Presentation within your WordPress site. We will check both of these ways for displaying the Presentation.

Just copy and paste the Presentation Link in the new line of the page or post body section.

After pasting the URL press Update or Publish Button.

The second way is also very simple as the first one, for this, you need to copy the WordPress Shortcode of the Presentation and paste it into your page or post body, and press Update or Publish Button.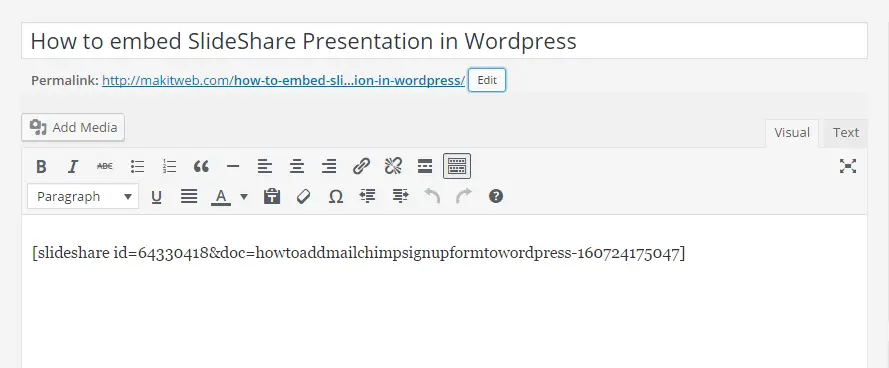 ---
4.

Result

I use WordPress Shortcode for embedding here,
---
5.

Conclusion

Slideshare is the best way to share content in presentation format and connect with other audiences. It not only allows users to share content to multiple social media, but it also allows them to embed them to the website by providing Embed code, WordPress Shortcode, and links.

You can embed it on your WordPress website using the plugin or without it. Use Shortcode or Link for embedding when you are handling it with Plugin otherwise, use Embed code.

If you found this tutorial helpful then don't forget to share.