Modules and controller is an important part of the AngularJS application.
A module is a container where functionality of the application is defined.
Controller belongs to the module where all logical part is done and updates the views.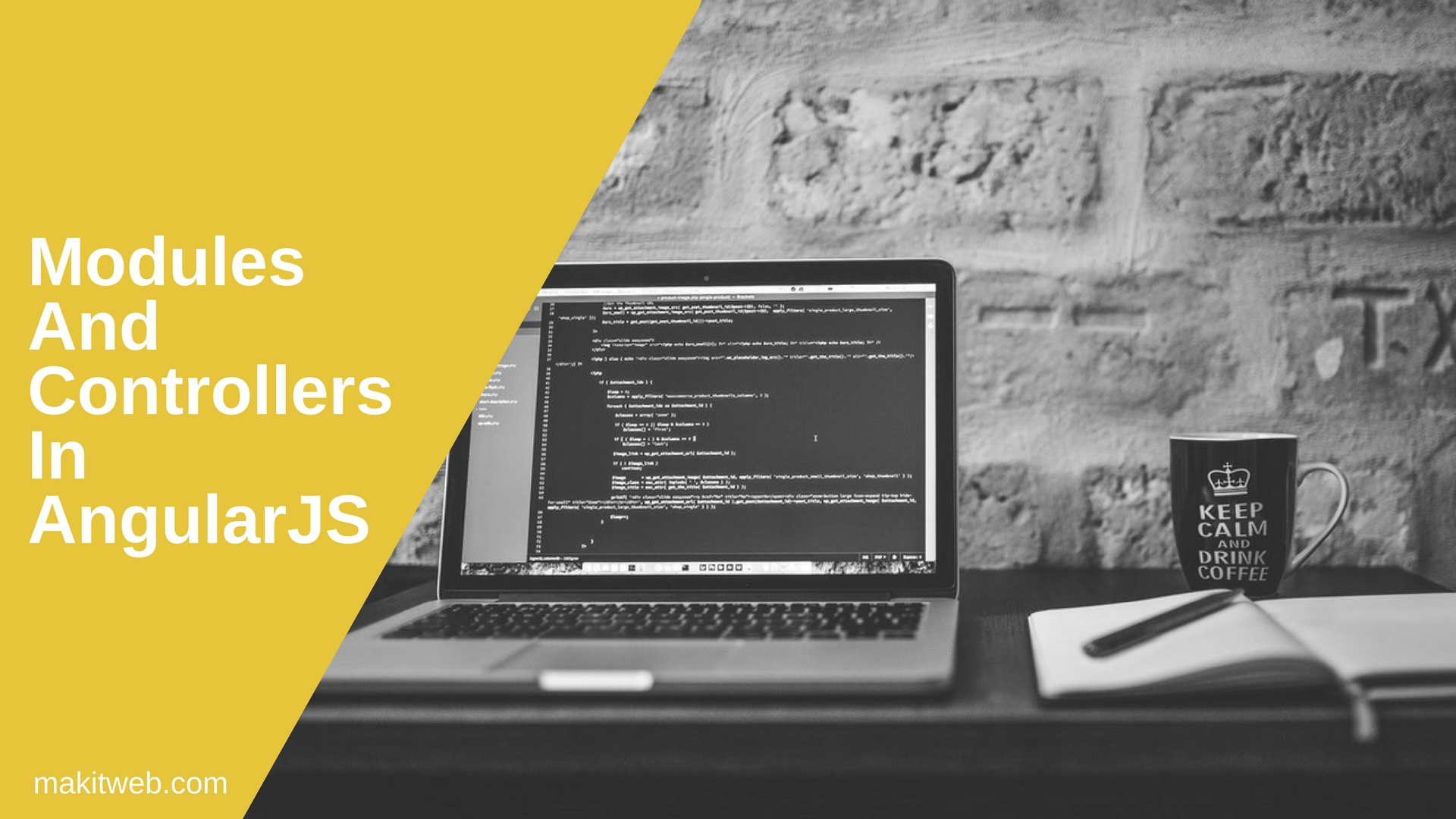 ---
Contents
---
1.

Modules

A module is a container for different parts of your application.

You may think modules as a main() function in C programming, which bind together different parts of the application.

Define module

angular.modules() method to create module.
var myApp = angular.modules('myModule',[]);

The first parameter specifies the name of the module which associates with ng-app value and
Another parameter specify the dependencies. If there is no dependencies you can set empty square brackets [] .
Example
<html lang="en" >
 <head>
   <meta charset="UTF-8">
   <script src="https://ajax.googleapis.com/ajax/libs/angularjs/1.6.7/angular.min.js" type="text/javascript"></script>
 </head>
 <body ng-app="myApp">
   <script>
    var application = angular.module('myLanguageApp',[]);
   </script>
 </body>
</html>
---
2.

Controller

Controllers is a JavaScript constructor functions which are bound to a particular scope.

With angular.controller method controller is defined which allows us to bind controller to the module. It takes controller name and a function.

To access or update the value of model or a property $scope is been used in the controller.

Example

Define ng-controller='lang' on a <div> and in the <div> added {{ language }}. The value of language is assigned from the controller function.

To assign value in language use $scope.
$scope.language = "AngularJS";
Completed Code
<html lang="en" >
<head>
 <meta charset="UTF-8">
 <title>Controller example</title>
 <script src="https://ajax.googleapis.com/ajax/libs/angularjs/1.6.7/angular.min.js" type="text/javascript"></script>
</head>
<body ng-app="myLanguageApp">
  <div ng-controller="lang">
  {{ language }}
  </div>
 
  <script>
  var application = angular.module('myLanguageApp',[]);
 
  var myController = function($scope){
  $scope.language = "AngularJS";
  };
  application.controller("lang",myController);
  </script>
</body>
</html>
Output
---
3.

Using controller with ng-click

The ng-click directive represents click event in Angular.

Pass the method which you want to call on the click.

Example

I create a simple example where use the ng-click directive on the buttons to update the view with the controller.

Define ng-click="lang()" on the buttons where pass different values from each button.

Create lang() method in the script which is called on the button click. Assign the value in $scope.myFavLanguage.

The view is updated with the clicked button value.

Completed Code
<html lang="en" >
<head>
  <meta charset="UTF-8">
  <title>Controller example</title>
  <script src="https://ajax.googleapis.com/ajax/libs/angularjs/1.6.7/angular.min.js" type="text/javascript"></script>
</head>
<body ng-app="myLanguageApp">
  <div ng-controller="languages">
  Select your Favourite Lanuage :
  <button ng-click="lang('php programming')">PHP</button>
  <button ng-click="lang('javascript')">Javascript</button>
  <button ng-click="lang('python')">Python</button>
  <button ng-click="lang('ruby')">Ruby</button>

  <p>You have selected : {{ myFavLanguage }}</p>
  </div>
 
  <script>
  var application = angular.module('myLanguageApp',[]);
  application.controller('languages',function($scope){
    $scope.myFavLanguage = "None";
    $scope.lang = function(value){
      $scope.myFavLanguage = value;
    }
  });
  </script>
</body>
</html>
Output