This tutorial, guide how to you can verify your domain in Mailchimp. Whenever you try to send the newsletter with an email which contains domain name for example – newsletter@makitweb.com . In this case, you need to verify it and authenticate your domain.
In this tutorial, I am assuming that you have a MailChimp account, if you haven't then you can signup for it and a website.
---
Contents
---
1.

Verification

First login to your MailChimp account and open your Profile and go to Settings and select Verified domains. Now you will see below like the screen which shows You haven't verified a domain yet message and Verify a Domain Button.

Click on Verify a Domain Button then a popup box will be open which ask you to enter your email address in this enter your email address from which you want to send newsletters and click on Send Verification Email Button. It will send you an email with a verification code.
Copy your verification code and paste it in Enter verfication code section and press Verify Button. An email address and domain has been verified successfully, but we need to perform one more step Authentication it is required because by this step MailChimp detects that it is actually your domain, not a spammer. Currently, it will show cross icon in front of Authentication.

Click on View setup instructions link its popup an instruction box of Domain Authentication.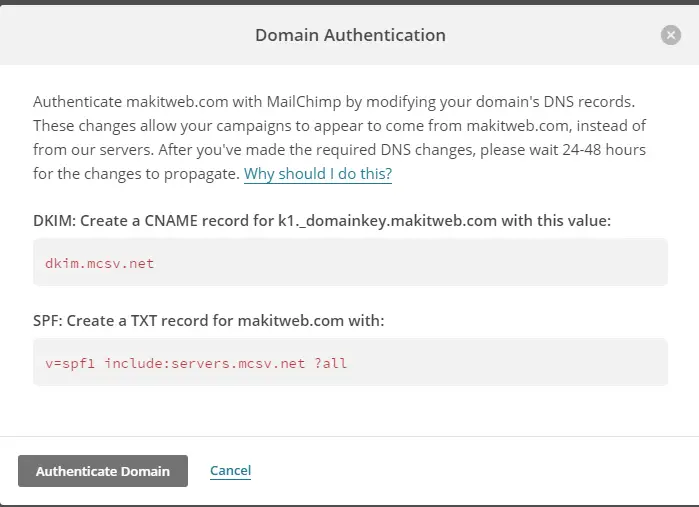 ---
2.

Authentication

Authentication has two steps –

(1) Create a CNAME record

(2) SPF record

Create a CNAME record

Login to your Cpanel account and go to Domain section and click on Advanced DNS Zone Editor. Here, create a new record with your values and click on Add Record Button.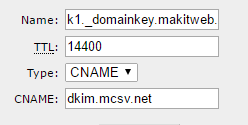 SPF record
Go to Cpanel Home and navigate to the Mail section and click on Email Authentication.  Within Email Authentication makes sure that DKIM is enabled if not then enable it and also enable SPF if not. In SPF go to the Include List (INCLUDE) and click on Add button and in the popup enter servers.mcsv.net and click on Update Button,

You have setup all required values for authentication. Go to your MailChimp and click on Authenticate Domain Button It will authenticate successfully now MailChimp able to send emails from your given email address.